Dinner at the time of Rubens: salad of parsnips
---
First course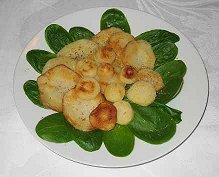 Salad of parsnips
Slices of parsnips rolled in flour and fried in butter or oil. Served on a bed of greens (arugula or other) and garnished with coriander seed.
Salad of parsnips (Gheeraert Vorselman, Eenen nyeuwen coock boeck, 1560, p.109)
Take parsnips, cook them well, and drain. Then take fresh water and cook the parsnips once more in water with green salad. Put them in a saucer and sprinkle with salt, vinegar, coriander and ground pepper. If desired, bake the parsnips in butter or oil, after cooking them, removing the core and rolling them in flour.
Ingredients (serves 4)
1 or 2 parsnips
5 oz greens (arugula or other)
salt and pepper
white wine vinegar
½ tablespoon coriander seed, lightly roasted and coarsely pounded
flour
olive oil
Preparation
Peel the parsnips as thinly as possible. A swivel vegetable peeler is best. Rinse the parsnips and slice.
Cook the slices in boiling water for three minutes. Cool the slices and pat them dry with paper towels.
Rinse the greens.
Mix vinegar, salt, pepper and half of the pounded coriander seeds.
Sprinkle salt over the parsnip slices and roll them in flour. Heat a frying pan with oil and fry the slices on both sides until golden brown.
Drain on paper towels and cool.
Coat the greens with dressing.
Divide the greens over 4 plates and cover with slices of parsnips.
Sprinkle the residual of the coriander over the parsnips.
---
[Home] Laatste wijziging: 25-01-05