Dinner at the time of Rubens: oysters
---
Appetizer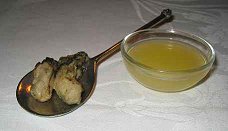 Fried oysters
Raw oysters, rolled in a mixture of flour and pepper, fried in oil, served with a citrus sauce (orange)
How to prepare oysters
(Magirus, Koocboec oft familieren keukenboec, 1612, p.134-135)
Oysters can be prepared in several ways. Many, among them myself, prefer eating oysters raw, after having been opened and rinsed, as usual, with salt, pepper and lime juice, or orange juice instead. Other people donít like them raw, but prefer them cooked, or stuffed in the shell with some wine, butter, salt and sprinkled with orange juice. Other people prefer them in different ways, which are so well-known in this country, that it would be useless to dwell on. I only have to express my opinion that oysters are extremely healthy, especially because old people have to be anxious about this. When they are rinsed, roll them in the flour en fry them in a frying pan. It is very good. Mussels and other shell fish, prepared in this way, are appreciated very much. If desired, you can add some pepper, and give orange juice, when served.
Ingredients (serves 4)
12 oysters
Juice of half an orange
Flour
Salt and ground pepper
Olive oil
Peels of orange for garnish (optional)
Preparation
Take out the oysters, save oyster juice and sieve. Add the juice to the orange juice. Dry oysters well on a cloth.
Mix the flour, salt and pepper. Roll the oysters in the flour. Remove abundant flour.
Heat a frying pan with oil. Put in carefully the oysters. Fry for about half a minute, while turning the oysters. Serve in the shell or a big spoon.
Sprinkle orange sauce over the oysters. Serve residual of the sauce separately. Garnish with peels of orange, if desired.
---
[Home] Laatste wijziging: 26-01-05